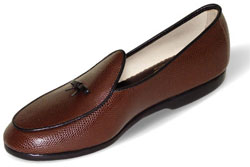 Q: What does the MB think of Belgian shoes? They appear to have some kind of cult following on the Upper East Side and Glenn O'Brien is quite a fan. I got conned into buying this pair years ago and have worn them a grand total of two times. My wife thinks they are the girliest shoes ever. And I'm inclined to agree. Does an MB need a little more courage to wear them or just some common sense to give them the heave ho? Thoughts?
--K Nelson

A: Mr. Nelson, Sir, you should probably get these into your regular rotation. We typically prefer a much more urban look (there are a bunch of new Pumas today on Bluefly), but wearing a $350 pair of slippers 'round town is the essence of Magnificent Bastard-dom. Exclusive, obscure, and posess a senseless lack of utility. Pair with your most beat-up denim for maximum juxtaposition. And tell your wife to mind her own business.

If you remain unconvinced, we're sure there's a homeless stockbroker on the Upper East Side who needs footwear.