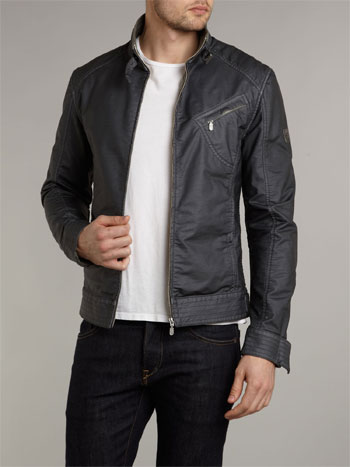 Q: I've my eyes on the Black Racer Jacket from Belstaff that you featured in your makeover header from a few years back. Is this jacket still MB recommended? I've found one for a pretty good price and in good condition on eBay and I'm considering whether to go for it.
—Conor
A: When Google's self-driving clown cars are established as the only vehicles that can legally operate on our roads, the Belstaff H Racer may seem a little superfluous. But we predict that that's going to take a good five years. Until then, we endorse the H Racer, albeit with one caveat:
As we alluded when we first posted about Belstaff jackets in 2009, human beings are not quite as timeless as a streamlined leather jacket.
If you're under 45, wear the H Racer as you please.
Once you pass 45, certain conditions apply. In a nutshell, the skinnier you are, the longer you can wear an H Racer without looking like you're trying to recapture your lost youth in the wake of your third divorce.
More specifically, if you have a BMI of 21-23, you can the H Racer until you're 50.
If you have a BMI of 20-21, you can wear it until you're 55.
If you have a BMI of 19 or lower, you can wear it forever.