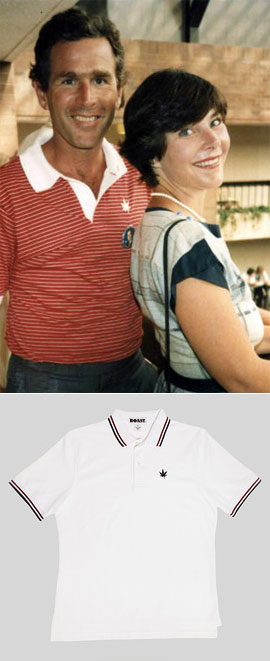 Q: Boast USA; I think their polos are pretty MB. Yay or nay?
—Chris

A: In Pulaski, Wisconsin, circa 1985, the closest thing we had to a country club was the dart board at the American Legion. So we were unfamiliar with Boast until we started see it showing up on other websites last fall.

At first we figured J. Peterman was trying to outdo himself by inventing the backstory for an entire brand rather than a single piece of apparel. A brand named after a squash shot, started by a Greenwich, Connecticut tennis pro in the 1970s, worn by John Updike, Roscoe Tanner, and a young, crackhead-skinny G.W. Bush? And bearing a logo that looks like a marijuana leaf but is in fact a leaf from one of our favorite trees, the japanese maple? It all sounded a little too good to be true. Especially since when you look at the logos on various vintage shots of the shirts, they all seem to have been harvested at different times — that's a lot of variation in the size of that leaf.

So we did what all serious investigative journalists do when trying to nail down the facts. We poured ourselves some Macallan 18* and started watching Risky Business, which was said to feature a Boast shirt in it. A dozen or so ounces later, there it was, at 1:08:20. Case closed. The brand and its history appear to be as real as Teri Hatcher's breasts.

Anyway. Onward to your question. We like the brand and we especially like their tipped polo. We'd like it even better if it came with no logo whatsoever, but even as is, we still think it's sharp enough for darts at the American Legion. And if there were a tennis court anywhere within ten miles of here, we'd be wearing it there too.

* Why weren't we drinkings MBs? Because we were working, and we save MBs strictly for our leisure hours.