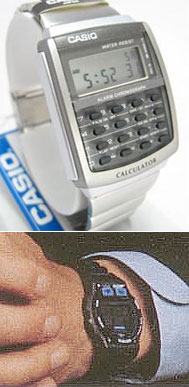 Q: Since you mention watches ... any advice on a good-looking digital watch? I can read an analog, but hate having to.
--David

A: When the big hand is on the 12 and the little hand is on the 9...

If you insist on digital then why not go nerd ironic with a vintage Casio calculator? Otherwise, we recommend the Timex Ironman, worn by Treasury Secretary Henry Paulson and President Bill Clinton (bottom), who is at least 50% Magnificent Bastard. It's a watch that says, "Yes, of course I can afford a more expensive timepiece, but I am practical, I am a brother in arms with the common man, and I may even jog on occasion."