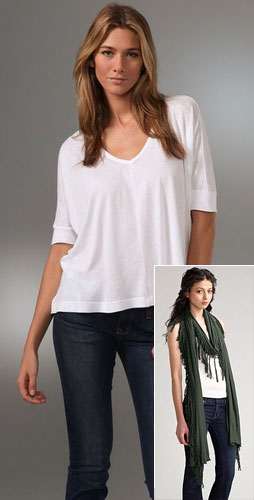 Q: This is a question for Spectacular Bitch, but since she's making us wait, like, forever ... I'd like your opinion on what to wear to Lambeau on Thursday night. I'll be in a suite with business partners so a cheese bra is out of the question. Please advise.
--Kelly

A: In lieu of the cheese bra (save that for November 7th against Dallas, when we'll be there) here's an effortless, SB-appropriate outfit for a cool August night:

* TOP: Splendid Whisper Draped Top
. With come-hither look. $55 via shopbop.com.

* BOTTOM: Your favorite pair of designer denim. We like AG if you've got it, Hudson if it's going a little south.

* FOOTWEAR: Sandals, with toes in buff or nude.

* WINNING SB ACCESSORY: Super long and slimming and green Chan Luu crinkle fringe scarf. $95 via saksfifthavenue.com.

Go, Pack, Go!