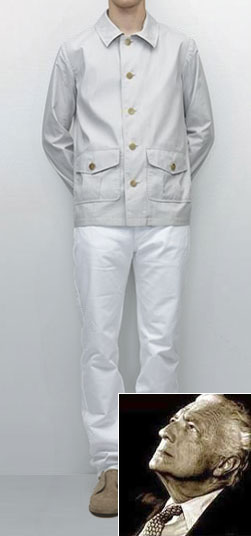 Q: Let's keep the wedding theme rolling here. I'm set for the wedding with a nice RL tux. The honeymoon is in the south of France. I've never been and I have a preconceived notion of how a MB will look on the French Riviera. Sean Connery circa 1962 with a hint of Gianni Agnelli? I don't want to get caught looking like an idiot in Nice or Monaco. I have the means so guide me toward some summer wear that will show that Americans can have style, even when in the heart of the beast. Merci beaucoup vous beau bastard.
--Max

A: Here's what you need:

* Fanny pack
* Birkenstocks
* Legible t-shirt, preferably for a collegiate or professional athletic squad
* Baseball cap
* Diabetes

Max, you're referencing early Bond and Gianni Agnelli (inset) and you're asking us for style advice? You ought to be on staff. Anyhow, when in Rome, or, say Monaco, do what the Romans do. A.P.C. is a solid, stylish, somewhat affordable choice (even though its head designer needs to take himself a lot less seriously) and pays respect to your new environs. Choose the jacket and jeans, then channel Agnelli and match with something unexpected and purely American, like a pair of Sperry Top-Siders. They will come in handy for any excursions on the Mediterranean. If yachting isn't planned, perhaps go even more American -- if you get our drift -- and get into a pair of moose moccasins.