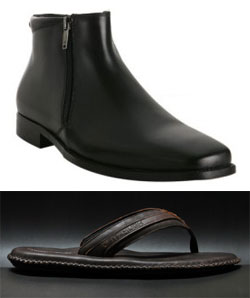 Q: Hey guys. Enjoying your blog. Just wanted to ask if you're familiar with Gordon Rush's line of footwear. I recently ran into a pair of GR dress shoes, and I am thoroughly impressed with the smooth, clean looks, yet they have an understated boldness to them as well. I can't find the same particular shoe online, but thought you may want to check out the web site: www.gordonrush.com.

While I'm at it, how do you feel about these sandals. Not a fan of the logo-ing, but I'm getting the pedicure next week and attending an outdoor wedding, so I'm running out of time. Thanks.
--Matt

A: We admire Gordon Rush as a fairly young designer who's been fairly successful, but he hasn't been mentioned since this site launched for a reason. There's just something too smooth and too clean about his aesthetic. Not to mention, his go-to toe shape is a little too square. (See MB Shoe Toe Pointiness Chart for reference.)

Regarding the sandals, it's fair to say logoed footwear is verboten at a wedding ceremony, but certainly the pedicure will help mitigate the style damage.

You're getting warmer, son, but keep reading.