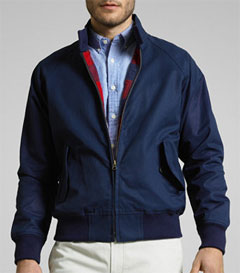 Q: Looks like ol' Leon Leonwood Bean has teamed up with Alex Carleton, a designer with an MB-endorsed pedigree, and launched the new L.L. Bean Signature line today. I'm sure you've seen the hype in the magazines and on the world wide internerd as nothing seems to escape your discriminating gaze. Here is my two parter. 1) Is the L.L. Bean signature line bastardly, magnificent, or both in any way, shape, or form? 2) If so which pieces should an aspiring MB spring for?
--Bub

A: Bub, in form, the Signature line certainly represents a departure from L.L. Bean's traditional products, which generally feature the tailored fit of a dropcloth.

Indeed, our dads, who are the only people we know who shop at L.L. Bean, are going to have to go on a diet. Signature features fitted shirts and low-rise pants, and frankly, if you've seen our dads, you know that's not going to work unless they drop a few pounds. They're going to look great in the Canvas Jacket, but we're going to pass ourselves. We prefer Carleton's work when he's not being haunted by the ghost of mail order past.