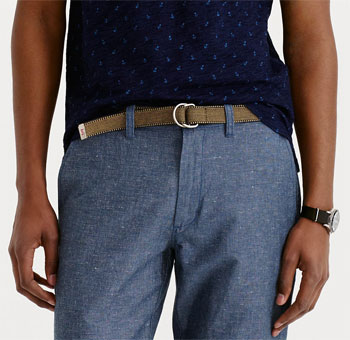 Q: Let's say this spring/summer I find myself closing deals pool- or courtside and I'm wearing a tennis shirt and a blue blazer. Should the shirt be tucked or untucked? Any other thoughts on pulling this look off?
—Aaron
A: Should your polo be tucked or untucked? Both.
We often poke fun at J. Crew's narrow blazer lapels — which are so badly proportioned models try to claw their way out of them. But their polo page is an instructive display of artful dishevelment, a core MB principle. Our advice on achieving this look is similar to our advice on how to tie a bow tie: drink three martinis very quickly, put on your pants, and then just try to tuck in your shirt.
As for the blazer, pairing it with a polo is already a high-low play so don't overdo it. Nothing that's too shiny or too padded, and nothing that looks like your suit has joined the sharing economy and is now renting out its jacket to schlubs who cannot afford a proper standalone blazer. Finally, a note on blazer length. As Leonardo da Vinci helped us demonstrate a few years back, a well-fitted blazer should never extend below your ball sack.
Bonus MB Tip: We own several polo shirts that are sometimes the most expensive thing we're wearing that day. But every wardrobe needs a strategic reserve of disposable white polos that are all but guaranteed to suffer a 100 percent casualty rate amidst the chaos of summer leisuring. This year we can highly recommend the ASOS house brand jersey polo. It's 18 bucks, has an athletic but not binding fit, and comes with free shipping and returns. To avoid the latter, order up one size.