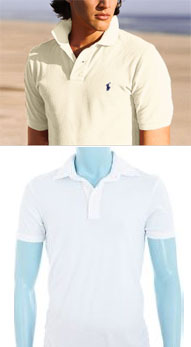 What is the Magnificent Bastard take on something I've always thought to be a staple in my closet, the Polo shirt (http://tinyurl.com/32uco2)? I personally have always loved them for casual wear, but want to make sure I'm not a toolbag by doing so.
--Chris

A: Ralph Lauren makes some fine clothing, but why choose a logoed item that's so ... very ... common? So you can look like that middle manager with the penny loafers and Blackberry hanging from his belt? Wait a minute, that's the office calling.

Save yourself $25 and get into something like this slim-fit, unlogoed polo from Barney's Co-Op. No popped collar, and you can show off more of your hard-earned biceps.