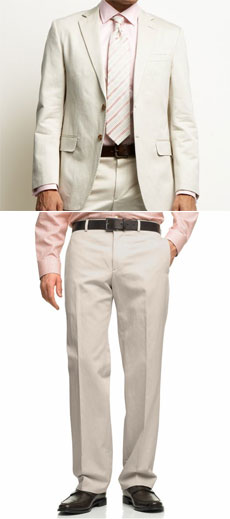 Q: OK, so linen is out, and I understand that. But what about this chino suit at Banana Republic? It's 65% Cotton, 35% Linen. Thanks. This is kind of an emergency because I've got a wedding to go to this weekend and it could be very hot. Other options?
--Nick

A: Online shopping is out given the urgency, which is too bad because YOOX always has something worth trying out. Anyhow, you can do a lot worse than that Banana suit, and the 65% cotton will keep it from looking like you slept in it. A couple of recommended edits and suggestions:

1. Have your cleaner take out the creases. We don't endorse creases, especially on a casual suit like this.

2. Do not pair with penny loafers as pictured. Check our shoes channel for all kinds of better options.

3. Expose your ankles (use these socks).