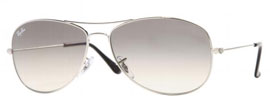 Q: I'm looking into buying some Ray-Ban aviators (Model 3362). They have silver rims and a grey gradient lens. I've tried them on already and have made sure they are definitely NOT reminiscent of the Karate Kid. When I told my brother, he suggested saving the money and buying some $20 knock-offs that look similar. What's the MB way of handling this situation?
--Sean

A: The MB way of handling this situation is to ignore your younger, dumber brother (we can safely assume he is younger; dumber is a given).

This is really bad advice. $20 frames are probably not polarized, and even worse, might not even provide UV protection, essentially doing more harm than good.

If we may make a suggestion on the Ray-Bans: even though it's an iconic brand and the logo is small, they violate the principle of invisible/discreet logos. It's basically on your face, so unless you are getting paid for leasing that high-value real estate, we suggest looking at all the other aviator options in the world, from vintage to Tom Ford to Diesel.