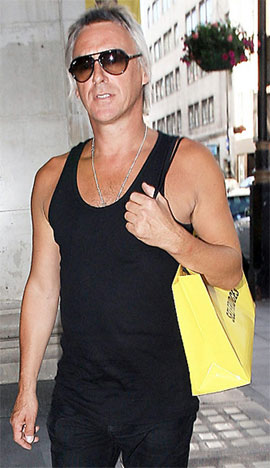 Q: Just read your skinny tie entry and reasons for disliking. The list of people of legendary style status who favored skinny ties is endless. Fat ties are the choice of Vegas club doormen, the kind you can smell from 10 feet away and wear Affliction in their off time. The reasoning (more for your money) is beyond me, and goes against your own tastes in the few entries I've read - a pleat gives you more more material for your money, so does a tassel on a shoe, and nearly every bad thing about clothing is about addition. The guys on sportscenter and The Sopranos vs. Paul Weller, JFK, Miles Davis. You should really rethink this one.
—Chuck

A: Loosen up your tie and relax, Chuck! At MB, we believe that giving our readers a good deal on a great tie calls for levity, not complete seriousness, and thus our joke about preferencing wider ties over skinny ones because you get "more for your money" was just that, a joke.

Rest assured that our often-expressed preference for wider ties has a sound aesthetic foundation. In short, we believe that one's tie width should echo the width of one's lapels, within 1/4". If you're like us and subscribe to Tom Ford's way of thinking that wider lapels "make men look more masculine, less boyish, and in general more powerful," it follows that one's ties should be equivalently wide.

These days lapels are following Ford's inevitable lead and fattening up, nearly as much as Christina Aguilera. Michael Bastian, who just won Menswear Designer of the Year, won't sell you a blazer with a lapel under 3 1/4". Others will soon follow.

As for pleats and tassels, you are absolutely correct, and if you ever catching us recommending them, even in jest, please reprimand us accordingly. There are some things that should never be joked about.

Earlier: Michael Bastian Forced to Shop at J.Crew?

Earlier: 5 Incoming Style Trends to Avoid, including tasseled loafers and pleats.