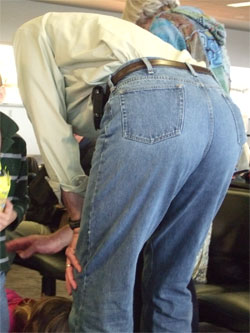 Q: I live in a total flannel shirt and NASCAR baseball hat state but consider myself a MB. Going back to your article "The Tyranny of the Untucked Sport Shirt", there sems to be a little lack of clarification. Is it OK to tuck in the sport shirt when wearing jeans? As a 32 year old guy, I don't want to exude that older, dad look. Please advise.
--Evan in Maine.

A: If you notice the Bravo toolbags, they're all wearing denim. Unless your shirt is specifically designed to be untucked, then tuck in, especially if you're in jeans.

As far as the dreaded "dad look" goes, this has more to do with the choice of denim and belt-mounted communication device than it does with tucking in your sport shirt.