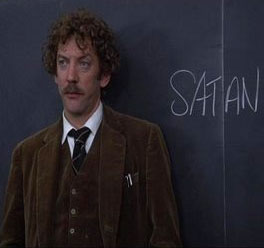 Q: How much corduroy is too much? I, like many, own a corduroy blazer. It's chocolate and I love how versatile it is. But around this time of year, I also like wearing corduroy pants, mainly to work. Seems like overkill to wear both together. Am I right?
--Jason

A: You are basically correct. An icon like YSL could probably make mismatched corduroy work, but the degree of difficulty is extremely high. A full-on corduroy suit is MB-approved, especially if you're trying to pull off that disheveled egghead look. It worked well for Donald Sutherland as the stoner English professor Dave Jennings in Animal House. And he ended up plowing Karen Allen.

We digress. Jason, to answer your question, match that blazer with a pair of jeans and rumpled oxford and wool/cashmere tie and you're good to go.