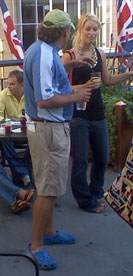 Q: I am wondering how you acquired the photo of the toolbag in the wild (Marlin Perkins Would Be Proud). I believe I can place the sighting and actually visited the establishment last evening. Even though I try not to look like a toolbag myself I am concerned I need to be extra careful since it appears establishments I frequent are being watched.
—Concerned Citizen

A: Indeed, a MB staffer spotted this toolbag at Brit's Pub in downtown Minneapolis, and a few cell phone pics were surreptitiously snapped. Believe us when we say no one feels worse about this than we do. It's just that when wanton toolbaggery appears at one of our favorite hangouts (and a Minneapolis institution no less), that kind of naked aggression against style will not stand, man, and something needed to be done.

You've surely heard of the Edmund Burke quote: "All that is necessary for the triumph of evil is that good men do nothing." It applies here.