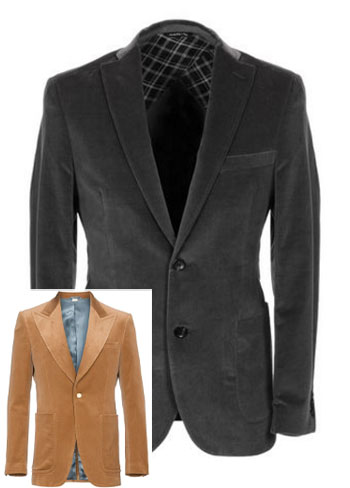 We've specified one blazer for our client, and when limited to a single blazer an MB principle is for it to be velvet (for F/W). If it didn't aggressively crush our entire $2000 budget this camel Gucci version from farfetch would be a no-brainer, so we retreated to The Amazon of the Fashion World and settled on a charcoal grey version by Tonello. $273.
It fits beautifully with the uniform we're building for Dave (the client). See for yourself in the brand-new Dresserizer, the name we've given our one-touch getting-dressed app. (Still in early beta.)
We Threw This One Back
The reason we're buying F/W in S/S is to maximize bang for the buck. We got this $650 vicuna cashmere Lauren Ralph Lauren blazer for $140. It ended up being a little too trad for our look and the color didn't fully work with the uniform palette, but it might work in yours. Definitely worth consideration.
Budget Update: We've purchased enough pants/shirts/sweaters/blazers for 64 different wardrobe combinations (that mostly work) in the Dresserizer and spent less than a grand. That leaves more than a grand. Stay tuned for footwear!