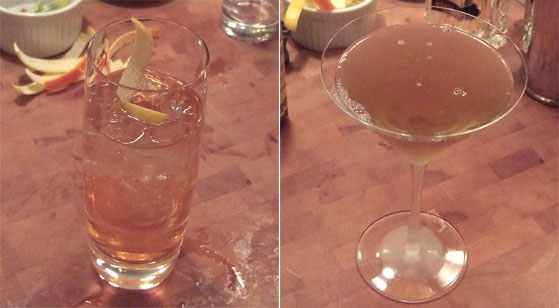 Bill York

Ingredients:
2 oz Herradura Silver Tequila
1 Tbsp St. Germain Elderflower liqueur
2 healthy dashes Angostura bitters
1 lemon twist

Instructions:
Add cracked ice to chilled mixing glass. Combine wet ingredients in the glass and stir for 30 seconds. Strain into a cocktail or highball glass or simply pour (ice and all) into a highball glass. Squeeze the twist and drop it in the glass.

Matt Hamlin

1 oz Mezcal (Del Maguey Chichicapa)
.5 oz Dry Vermouth (Dolin Dry)
.5 oz Sweet Vermouth (Dolin Sweet)
1.5 bar spoons Maraschino (Luxardo)

Instructions:
Stir all ingredients over ice. Strain into a chilled cocktail glass.
Winner:
Matt Hamlin
Score:
4-1
Game Summary:
York's cocktail was interesting because it contained a cloaking device (tequila was disguised as the main liquor). However, it couldn't hold the jockstrap of Hamlin's tequila Rob Roy, which was well balanced, finished beautifully, and forced most of us to drink the whole thing.
See the full tournament field