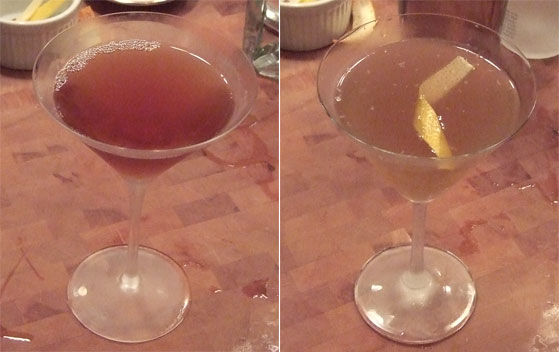 Tom Brown

Ingredients:
1 1/2 oz Haymann's Old Tom gin
1 oz Carpano Antica Sweet Vermouth
1 dash Kubler Absinthe
1 dash Fee Brother's Peach Bitters

Instructions:
Add ingredients together with ice in a cocktail tin and stir.
Strain into cocktail glass.

William Whitfield

Vodka (I use a grain vodka)
Sweet Vemouth (any brand)
Canton (Domaine De Canton)
Whole lemon (for the fresh juice)

Instructions:
fill shaker with ice
add vodka (50%)
add Vermouth (40%)
cut lemon in half and squeeze into shaker (some pulp is okay)
add a splash of Canton(10%)
shake (about 30 shakes...)
pour into martini glass
garnish with lemon twist
Winner:
Tom Brown
Score:
5-0
Game Summary:
Whitfield's cocktail was too puckery, even for the deck or boat. Brown's was a classic cocktail with the right amount of absinthe and perfect peach note.
See the full tournament field