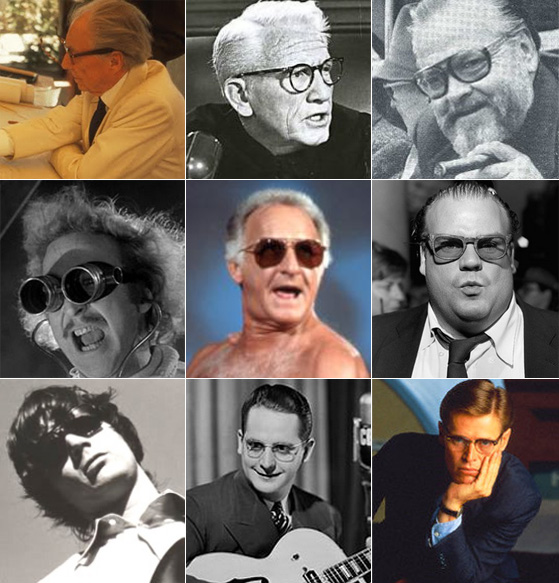 Welcome to the 3rd Annual Allyn Scura Eyewear Challenge, sponsored by our all-time favorite eyewear and sunglass outfitter, Allyn Scura.

The challenge: Identify the nine bespectacled or sunglassified MBs above and you will be entered to win a pair of Allyn Scura frames ($175 value) — like The Legend favored by reigning People "Sexiest Man Alive" Bradley Cooper — or a $100 credit you can apply toward any vintage frames Allyn Scura carries. It's entirely up to you.

To enter simply email editor@magnificentbastard.com with the names of the men pictured, and in the unlikely event of a tie — this is the hardest contest yet — what they all have in common. One entry per email address. Good luck. The deadline for this contest is next Friday, March 9th.

Earlier: Bradley Cooper in a pair of Allyn Scura Legends with A-list-only blue lenses.

Update: Ben Aitkin correctly identified the MBs pictured above. Top to bottom, left to right:

Frank Lloyd Wright
Spencer Tracy
Orson Welles
Gene Wilder
Bob Ueker
Chris Farley
Steve Miller
Les Paul
Willem Dafoe

He also got the tiebreaker correct (along with a bunch of other fellas): They were all born in Wisconsin.

What the others not do was get their name randomly picked from a Super Bowl XLV hat. Congrats Ben. Enjoy your new glasses from Allyn Scura.