Recently we identified what we won't be wearing on the links in 2019 and beyond: Jim Nantz by Vineyard Vines. But it got us thinking, what is the Nantz antidote? What can we wear this spring to counter the effects of comfort-fit khakis and quarter-zip sweaters?
One answer: Canali.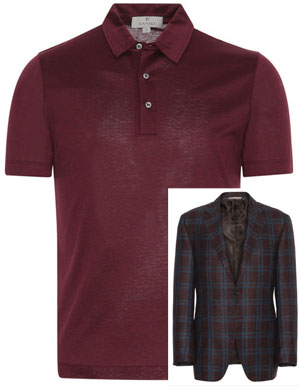 We've had our eye on Canali — typically known for its Italian suiting — since the 2014 Ryder Cup, when Europe crushed USA in their ridiculously sporty plaids, while some members of Team USA actually thought it was OK to wear mock turtleneck compression tees under polos. Bubba Watson championed this look even more than Jim Furyk, and seemed more interested in dressing up like a Yankee Doodle Toolbag than competing, going 0-3.
Anyhow, 5 years later we've invested wisely enough to invest in a little Canali, like this mercerized cotton polo, and for the team photo this blazer that epitomizes nearly everything we've written about blazers over the past 11 years. Is this enough to counter the powerful effects of Jim Nantz and the Vineyard Vines marketing team? We're unsure, but we're certainly going to try.
EARLIER: 5 Ways Not to Look Like Yankee Doodle Toolbag on the 4th of July