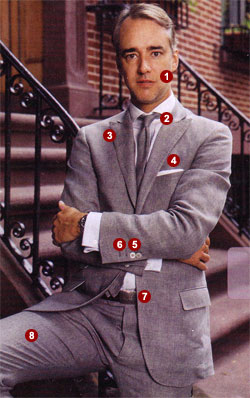 Hot designer Michael Bastian put on a how-to clinic in a recent issue of Details:

1. Long, thin face indication of superior breeding and maintenance routine.
2. Tie knot artfully disheveled to precise degree.
3. Peak lapels add subtle dramatic flair.
4. MB-approved pocket square execution.
5. Jacket with real buttons.
6. Two said buttons unbuttoned.
7. Antiqued belt buckle turns "casual" knob a notch or two.
8. Un-creased pants turns "casual" knob one notch more.