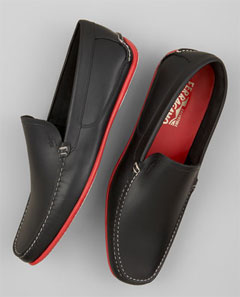 Q: Spring is nearly upon us and, as a man of comfort and style, I want to enjoy some suede loafers / boat shoes from time to time. However, I'm not sure if they're really "business casual." Please advise.
--Davis

A: Yeah, the Elgin #1 has been spotted, which means spring is definitely here.

We oppose any hard and fast rules on acceptable "business casual" footwear. We wear tennies with a twist and HR has not been in contact. Suede loafers easily qualify in most cases, and although "boat shoes" get you word-associating "Sperry topsiders," check the Neiman Marcus collection of boat shoes for spring. Most of these are sure as hell more "business casual"-appropriate than a co-worker in square-toed Kenneth Coles.