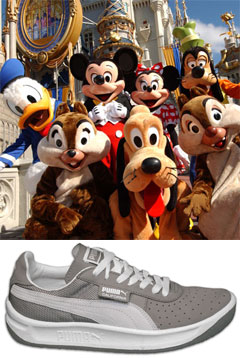 Q: Will be taking the family to Disneyland this summer. What shoe do you recommend that is 1) stylish but that a 40-something can wear, 2) comfortable as hell for walking and standing all day, 3) can take a soaking (for riding Splash Mountain or California River Raft ride), 4) won't break the bank. Afraid to wear the Franks as the soaking may ruin the suede.

A: Frankenclydes hold up well to water, but we see what you mean. You want something that can withstand not just Splash Mountain, but also the Great California Slushie Spill. Apply some OxiClean, toss 'em in the wash, and they'll turn out as good as new.

We're not quite sure what you mean by "won't break the bank" so we'll offer two options:

TOP: Really Magnificent Bastard
Converse by John Varvatos 'Jack Purcell' Sneaker, $94.95, via nordstrom.com.

BOTTOM: Slightly Less Magnificent Bastard
Men's Converse 'One Star' Oxfords - Blue, $29.99, via target.com.